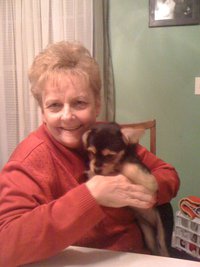 On Monday, August 6th, Chili Willi's lost a dear friend, co-worker and icon of our restaurant. Dottie Wellman passed away in her sleep at her home. Dottie and I worked so close together at Chili Willi's for over 26 years that she was more than a co-worker she was my great friend. Many knew her as the lady at the bar, but she was a consummate bartender, who never took a drink of alcohol. She was a manager that quietly managed and mentored many of our wait staff and bartenders. She was the source for many of our favorite beverage recipes and made all of our Kahlua Mousse Pies. She was in short dedicated to Chili Willi's and made the hospitality of our guests her number one priority. As fellow Chili Willi's partners we all knew of the many "Dottieisms" she would tell us. She once said that when she retired she was going to make her fortune by writing a book on all her experiences, good, bad & hilarious, from her many years at Chili Willi's. Of all the things we shared and learned together the thing she taught me that was most important was to always tell the ones you loved how much you loved them, for tomorrow was never assured. As she passed away in her sleep, we all regret we didn't have the chance to tell her the same. I know though she is in good hands now, as she was confident in her faith and loving to her family and friends. May your memory be eternal dear friend.
Viewing and respects will be held at the Neal Funeral Home in Catlettsburg, KY on Thursday, August 9, 2012, from 6 – 9 p.m. Funeral services will be held at the Second Baptist Church in Catlettsburg on Friday, August 10, 2012 at 11:00 a.m.
---
Fellow Chiliheads –
The rumors you have heard are unfortunately true, we are closing the doors on this chapter of Chili Willi's. We've been through quite a bit in the nearly three decades since I opened the doors on this restaurant and the challenge of a sharp decline in the economy combined with record decreases in consumers dining out have forced us to re-evaluate how we operate.
Our plans are to start a new edition of Chili Willi's in the near future as a fast-casual restaurant. For now, we're going to keep serving you the incredible Tex-Mex foods on our normal business hours through Monday, October 31st. We want to see all of you come down to the restaurant and visit with us during this week and we honestly look forward to seeing you in the future.
As always – Chili Regards, Ron